Have you made a stain on your feather and down pillow and want to get rid of it? Find out how to clean it without damaging it.
The pillow with natural filler (feathers and down) has many advantages
It has a longer lifespan than its synthetic materials, which wear more easily as it is washed. It dampens the head and offers optimum support, which makes it a good weapon to fight against back pain. It is soft, moist and tender and is the perfect accessory for a pleasant, cozy nights.
However, this model requires special care when washing, a step to be observed at least once a year if you sleep on it all year. Here's how to perpetuate and keep clean your bedding accessory.
Washing the feather pillow in the washing machine: yes, but under certain conditions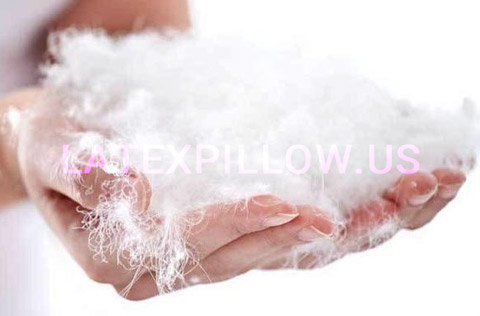 The herbal tea which you usually drink before going to bed has slipped from your hands. And it has dripped on your brand new feather pillow … The temptation is great to slip it into the machine with the rest of your laundry to enjoy it again as soon as possible. But be careful, you risk ruining it forever.
Take the right steps
First, remove the pillowcase;
Be sure to remove the feathers that try to escape the cover;
Also make sure that it does not show any snags, which could be accentuated with cleaning;
Place it in the drum, adding two to three tennis balls.
Why? By spinning during the cycle, they will tap the pillow, spacing its feathers and allowing it to keep its initial swollen shape.
Bet on sweetness
Select a delicate textile program, at a temperature of 86 or 104 °F (against 140 °F for cotton sheets) and avoid spinning. Your usual laundry is perfect. However, do not overdo it so as not to soak their scent to the cushion. You sleep with your nose on it.
Do not miss drying
Do not add bleach or softener, which could damage the feathers. To dry it, lay it flat, in the sun if possible. Otherwise warm inside. Do not hang it with clothespins. This will create a pile of wet feathers that will struggle to dry. Turn over and tap the pillow from time to time for evenly distribute of feathers.
Now that your feather and down pillow is clean, use it to raise your back and turn on the television. A good TV series awaits you to help you sleep.