If you are thinking about care of a pillow, then you are going in the right direction. We have prepared a short list of tips for you which should be studied and periodically implemented.
With proper care for the pillow you ensure yourself a healthy sleep and will have a much longer service life of the pillow.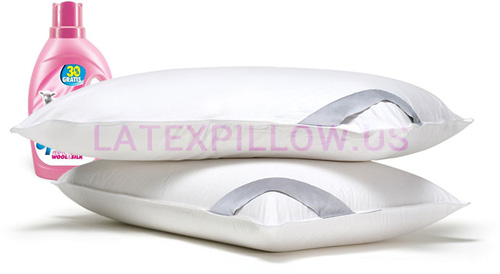 Quick Tips
Washing
If the pillow has double cover, it is advisable to wash it together to make the filling more protected.
Use the washing machine program for delicate items at low temperature with mild liquid detergent.
Do not use fabric softeners.
Insert the pillow in the same direction as the drum.
To prevent pillows from blowing too much against the drum of the washer, wash more than one pillow at each wash.
Perform a second rinse to avoid any residual detergent remaining inside the pillow.
Feather pillows: Insert two wrapped and tied tennis balls into the washing machine.
Latex pillows: Curl the pillow and hold it with a string or string to prevent it from unwinding.
Dry the pillow in the dryer or outdoors:
Dryer: Use a cold drying cycle program. If more than one cycle is necessary, remove the pillow and recess it before reintroducing it (for duvet pillows, put two wrapped and tied tennis balls in the dryer).
Outdoors: Place the pillow in a completely horizontal place and cup it once dry.