Sealy pillow fit more people who want a soft pillow, like marshmallow. Support for Sealy pillows may not be as great as in Simmons pillows, but these pillows are so soft and gentle as its possible.
This was possible using this type of latex as Talalay latex, from which you can create a latex pillow of any consistency and style. Because of this, it is now possible to produce firm, medium and soft latex pillow.
And so, let us consider what are all the same pillow offers us Sealy.
They can be divided into ordinary pillows, memory foam pillows and of course latex pillows.
Sealy Pillow Size
Standard: 20″ x 26″
Queen: 20″ x 30″
King: 20″ x 36″
Sealy pillow
All Sealy pillows hypoallergenic, so if you have allergies, then for it do not worry.
The best Sealy pillow its memory foam and latex pillows.
Sealy latex and memory foam pillow
1. Embody™ Ideal Dual Support Pillow
This is one of the best Sealy pillows, because it combines the two best material for the dream: the latex and memory foam. With this you get two in one pillow and you have the opportunity to choose what support you would be the best.
On one side is a comfortable memory foam pillow, and on the other hand it is a latex pillow.
Ventilation holes in Sealy pillow placed over the entire surface and allow to freshen the air flow pillow in making your dream a fresh and pleasant.
On this pillow you can sleep in any position on the back, side or stomach.
Care Foam: spot clean only. The cost of this Sealy pillow in standard size, starts from $ 119.99.
2. Embody™ Optimal Latex Pillow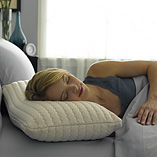 This Sealy pillow has a latex elastic and durable support for your head and neck. Pillow is filled with premium Talalay latex. The structure of the latex is composed of special channels for constant circulation of air and comfortable sleep. Due to the specifics of the material in the pillow will not appear mites, protect against germs and all that makes your stay healthy and clean. On this Sealy pillow you can sleep in any position on the back, side or stomach.
Cost – from $119.99
3. Embody™ ProFormance® Memory Foam Pillow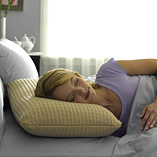 Memory foam pillows have the ability to memorize and repeat the contours of your body, due to this reduced pressure, and you sleep and gaining strength in a shorter time.
As in previous pillows vents all over the Sealy pillow will provide you with a fresh dream.
Cost – from $119.99
4. TrueForm® Contour Pillow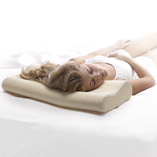 This pillow is made taking into account the contours of your body to support your head and neck in the most optimal position.
It does not matter in what position you sleep on your back on your stomach or side, you will always be comfortable.
$79,99
5. Spring Free™ Latex Pillow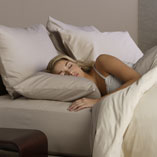 Excellent Sealy pillow made from premium latex, will give you a comfortable rest and good support. Mold or dust mites cannot develop in this Sealy pillow. Ideal for people who suffer from allergies. Generally, a good pillow, latex for not much money.
Made in three sizes – standard, queen and king.
It costs – from $49.99.
All Sealy latex pillows have a 10 year warranty, except Spring Free™ Latex Pillow, warranty on this pillow is 5 years. Just Remember, care foam: spot clean only!