Natural Latex pillow conform to your neck and head for ideal support and comfort. They are anti-microbial, dust mite resistant,  hypoallergenic and mildew proof.
Talalay latex pillows are the great quality and are offered in medium, firm and soft levels for superior comfort and support. We recommend "soft" for side sleepers who like a squishy pillow.
Natural latex pillow are available in king, queen and standard sizes. Each pillow comes with a protective cotton sateen pillow cover.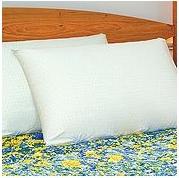 Available sizes Natural Latex pillow:
King – 33.1″ x 17″ x 7.0″
Queen – 27.6″ x 17″ x 7.0″
Standard – 24″ x 17″ x 6.5″
Natural latex pillow throughout the entire sleep time is good for relaxing muscles in the neck and back muscles, improves blood circulation. Many of the types of covers are composed of materials with unique properties such as antibacterial and hygroscopicity, high levels of conservation of heat, relieve skin irritation, do not cause allergies.
Natural Latex pillows are useful for people who suffer from allergies because they can not grow bacteria, germs and mold. Latex pillows are not recommended for people who have multiple chemical sensitivity. Although most people can not detect odors, ability to make some users say they have a slightly sweet smell. To eliminate this odor, simply remove the cover of cotton and air bag for a few days before using it.
Consumers review:
The ventilation system will allow you to stay cool, dry and comfortable throughout the night!I bought these pillows (soft density) for our big bed and was so happy with it, I bought another set for our queen bed in our bedroom. When we have guests, they always comment on how comfortable pillows. I tell everyone about my pillow, because they are just that good. I refuse to buy any other type of pillow.

The pillows are very comfortable. They stay cool through the night. It was helpful to be able to choose the density of the pillows. I am very satisfied with my purchase and look forward to making more purchases in the future.