Proper care for your blanket is as important as care of the pillow.
If you do not provide the proper care your blanket, it can quickly lose its former appearance and you will start to feel only a discomfort with it.
In this article we have prepared a list of the most important tips for high-quality care for the blanket.
Washing
Wash preferably in a front-loading washing machine to keep it from being too tight.
Use the washing machine program for delicate items at low temperature with mild liquid detergent. Make sure it does not contain bleach or fabric softeners.
Perform a second rinse to avoid any residual detergent remaining inside the blanket.
Follow the washing recommendations on the label.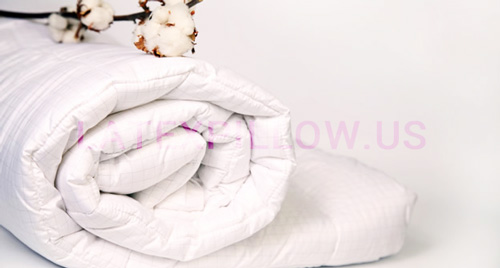 Dry the blanket in the dryer or outdoors
Dryer: Use a cold drying cycle program. If you need more than one cycle, remove the blanket from the dryer, shake it with your hands and put it back into the dryer (for duvet blanket, put in the dryer two wrapped tennis balls and tied with stockings).
Outdoor: Dry outdoors for about two days away from the sun. Remove and shake it with your hands.
Check that the blanket is completely dry to prevent the appearance of fungus and mold.
It is recommended to wash the blanket in hot weather.
Do not iron.
Following these tips, your blanket will not lose its properties and will last you much longer